Now you can break those routine trend of dress and flats or skirt and top at your work by wearing some shorts at work. The new trends and leniency on dress code has encouraged people to try something new in their wardrobe for their office wear. Below are the five important tips you can use before buying the shorts and a perfect look for this summer at your work while you are wearing shorts:
1. Never wear shorts that are too short and revealing. As for the shoes that go them, the length of the heel preferred with the shorts is usually between 1 and 2 inches.
2. Fabric for the shorts: Think about your work pants while you are buying the shorts. Try to avoid denims unless your workplace is okay with it. Always choose thick crepe fabrics, wool blends and printed jacquard instead of denims.
3. Right structure – Always make sure your fabric should not have unwanted drapes or shiny finish. Try shorts with pleats and neat structures to get a professional look at your work.
4. Better if it resembles a skirt – The more your shorts look like a skirt, it looks better. Try shorts with high waist and an A-line cut for your office wear.
5. Tuck in your top: Whether you are wearing a shorts, pants or skirts, tuck in your top or shirt to get a perfect feminine and corporate look.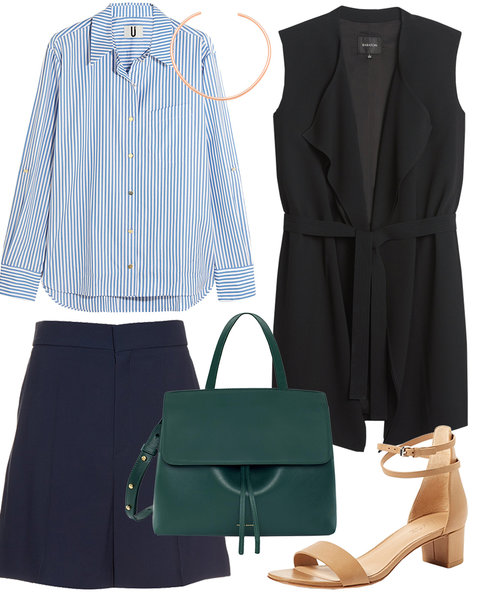 Shop the look!
1. Vince - Rianne Ankle Strap sandals by Vince is perfect for your work hours with shorts. The adjustable straps with buckle gives it a chic look and the low wrapped heel of 1 ½'' is just right for the shorts.
2. Chloe - The wide leg tailored cady shorts by Chloe having neat front seams will give you sharp look and desired femininity at work. They fit high on the waist and come with pockets.
3. Topshop Unique - The Dorney striped cotton-poplin shirt is embodied with golden plush buttons and is similar to traditional menswear styles. The sharp collar and chest pockets with sky blue and white strips is always appreciated among the workaholics.
4. Babaton - Marcelo vest by Babaton is designed for its amazing drape. The smooth satin crepe fabric chosen provides it with desired elegant weight. The belt can be used to tie at the waist if you prefer sleek style.
5. Jules Smith Choker – The Americana choker is a simple rose gold plated malleable ring that easily curves around your neck.
6. Mansur Gavriel – Mini lady bag by Mansur Gavriel is perfect accessory for your look with the shorts. The bag is made up of Italian calf leather and comes with adjustable shoulder straps.